MONDAY!
I call our visit to the Gaylord Hotel a "staycation", but I definitely use that term lightly 🙂 By the amount of messages I got regarding our stay, it's definitely apparent y'all are ready for a vacation, too!
We were in the process of moving, and we were able to negotiate a free 30-day rent back from the buyers who bought our home, but they needed to be out of their current rental situation, and didn't have any flexibility to give us any more time. SO, we packed everything up (and we have the best friends EVER for helping!) and put everything into moving trucks, then headed out to the Gaylord Hotel for 4 days while we waited to close on our new home.
I received a lot of questions about the hotel, what we liked, if we felt "safe" with COVID restrictions, and everything in between. SO, HERE YOU GO! All the deets from our trip.
COVID Restrictions
As of now, Colorado is under a "mask mandate" meaning masks must be worn out in public at all times. There are signs plastered EVERYWHERE at the hotel, and honestly, I would say 95% of the guests (and workers) at the hotel, followed the mask rules. We felt very comfortable the entire time. We were able to take our masks off at the pool, and while at the restaurants, once we got to our table. I feel the hotel went above and beyond in making sure people felt safe.
Pool
One of the main reasons we went to the hotel was for the POOL! And let me tell you, it did not disappoint. We had so much fun! They recommend you make pool reservations online in advance. You can reserve your pool reservations up to 10 days prior to your stay. You can book the morning time slot ( 9 AM – 2 PM) or the afternoon time slot (3 PM- 9 PM). It was so nice to be able to have several hours of pool time. You're also able to come and go as many times as you please from the pool, which was great.
The hotel had a large indoor pool and huge outdoor pool, a lazy river, hot tubs, water slides and so much more. Most of the depths in the pool don't go above 4 ft, so our kids we're able to enjoy swimming in not-so-deep water. There were plenty of chairs available, and the pool bar was open! (I was a huge fan of the Miami vice drinks, #sorrynotsorry). But, make sure you bring your mask. They won't let you order anything at the bar unless you have your mask on. The kids favorite treat? The Kona Ice Truck on the grounds!
The water in the pool was really warm. The water in the lazy river was literally hotter than bath water. It was great on the days when it was cloudy and cooler out, but still so warm.
Food 
The food at the hotel was probably my least favorite. It was pricey and just not that good (my opinion, you may think otherwise!). Only 3 restaurants are open, plus room service. I think there are a total of 7 restaurants on the grounds. The restaurants open were a sports bar type place (that serves breakfast, lunch and dinner), a cantina (we never made it here–every time we tried it was closed), the pool bar for snacks and lunch, and room service. We ordered pizza one night to the hotel through Door Dash, and ate outside and enjoyed the patio and THE VIEWS. We also snuck away to Stapleton (well, what used be known as Stapleton) one night and enjoyed some Torchy's Tacos.
Our first night there, Kinley requested room service for dinner. I'm still not sure if I should be proud or nervous (ha!), but we did it and it was good. I had the cheeseburger and it was probably the best meal we had the whole time. And we got to eat in our beds with our PJ's on. That's a huge win in my book!
Also! There is a market just past the lobby that sells all sorts of snacks and "quick bites", and they had some great options. There is also a Starbucks here as well (thank god).
To-Do
While we spent most of our time at the pool (naturally), there were still plenty of other things to do. The Gaylord Hotel was VERY kid friendly. One morning, they had live animals that you could walk around and see. When we were there, the theme was "birds of prey", and we even got to see a bald eagle, which was pretty cool. I had to get some work done, so Steve took the kids on a scavenger hunt throughout the hotel, which the kids loved. The front desk provided a booklet and sent the kids and Steve on their way.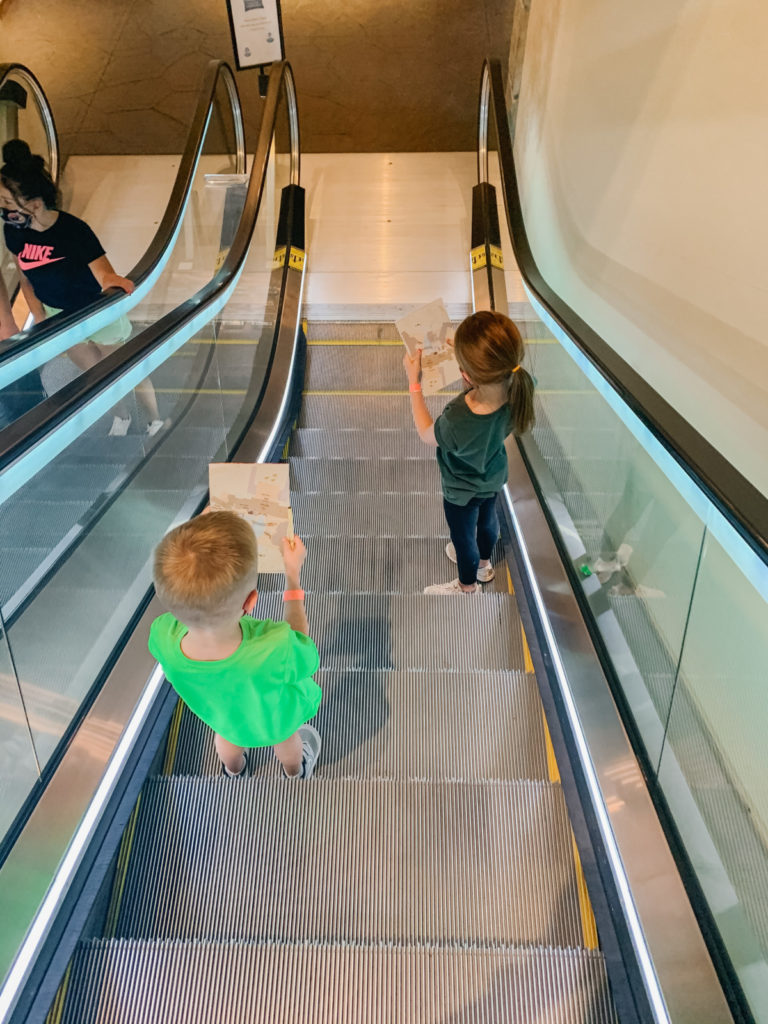 There is a whole outdoor section where you can play yard games (corn hole, giant Jenga, hoola hoops and several other things). We did this for awhile and had so much fun. There is a whole disc golf course on the grounds as well. In addition to the outdoor games area, there are walking trails everywhere. I mean, walking to and from your room is exercise in itself, but there was so much to do to keep you busy and active! I hear you can also rent bikes and cruise around, but that wasn't an option while we were there.
By the pool, there is a putt-putt golf course and basketball courts–you can rent all the equipment for free.
There just so happened to be a "Cattleman Expo" event going on while we were there. Ryker was in heaven because he LOVES cowboys and was so excited that we found his cowboy hat in our suitcase (random, yes, but when you're packing up your home during a move, random stuff pops up everywhere!). He was able to snag a picture with a cowboy and they even told him he'd be in the "Cattleman Magazine". If you have access to that magazine, and happen to see Ryker, send me a copy! 🙂
Parking
Be ware! You have to pay to park, and if you self-park, it's $29/night/car and if you choose to valet, it's $39/night/car
Overall, we had a blast and loved our stay at the Gaylord. The hotel itself is stunning and the view are incredible. The pool was our favorite part. We would totally book a stay again at the Gaylord. The room was beautiful and so clean. The Gaylord offers so many different events and activities throughout the year, but summertime at the Gaylord did not disappoint!
XO,
Lindsay