Y'all! We just got back from our trip from Gulf Shores, AL and I can't wait to share with you all the details of our trip. By the questions and comments I got, it seems that Gulf Shores is unexplored territory for my Colorado people! Growing up in STL as a kid, Gulf Shores, AL and all the way over to Florida were very popular spring break destinations, because it was an "easy drive" for the midwest folks. Gulf Shores has always been on my radar, so we were so excited to be able to get away for a family vacation here.
We've been planning a Disney Cruise for two years now, but it keeps getting cancelled/postponed to the next year.  We got word our cruise was being cancelled again for 2021, but we needed a vacation BADLY. This time of year is always risky with weather in the south, but we didn't care–we wanted to get to the beach! (And apparently, missed there were some crazy tornadoes happening in North Alabama while we were at the beach!).
So…here we go! All the details for those asking!
Where we stayed:
We stayed at the Lodge at Gulf State Park, right in between Orange Beach and Gulf Shores. The hotel is located on a State Park and right on the beach! The hotel was beautiful and perfect for our vacation. Added bonus for our kids–our hotel room came with BUNK BEDS! They thought that was the best thing ever (a big win for us!). Our hotel had a pool, private beach access, two restaurants, outdoor games/activities for kids, access to rent bikes for free to explore the state park, and so much more. The hotel was beautiful and we would highly recommend it.
What we did:
Fishing at the Pier: You have to buy an AL state fishing license, and then another fishing license for the pier. You can rent poles, bait and anything else you needed. While Steve and the kids didn't catch anything, there were plenty of other people around catching fish (and SHARKS!) so the kids had a blast. Plus, you can walk to the pier from the hotel along the beach.
The Wharf at Orange Beach: Lots of outdoor shopping options, restaurants, and a ferris wheel! Also, lots of boats to look at, at the marina. It was raining when we went, so the ferris wheel was closed, but we had fun dodging the rain going in and out of all the stores.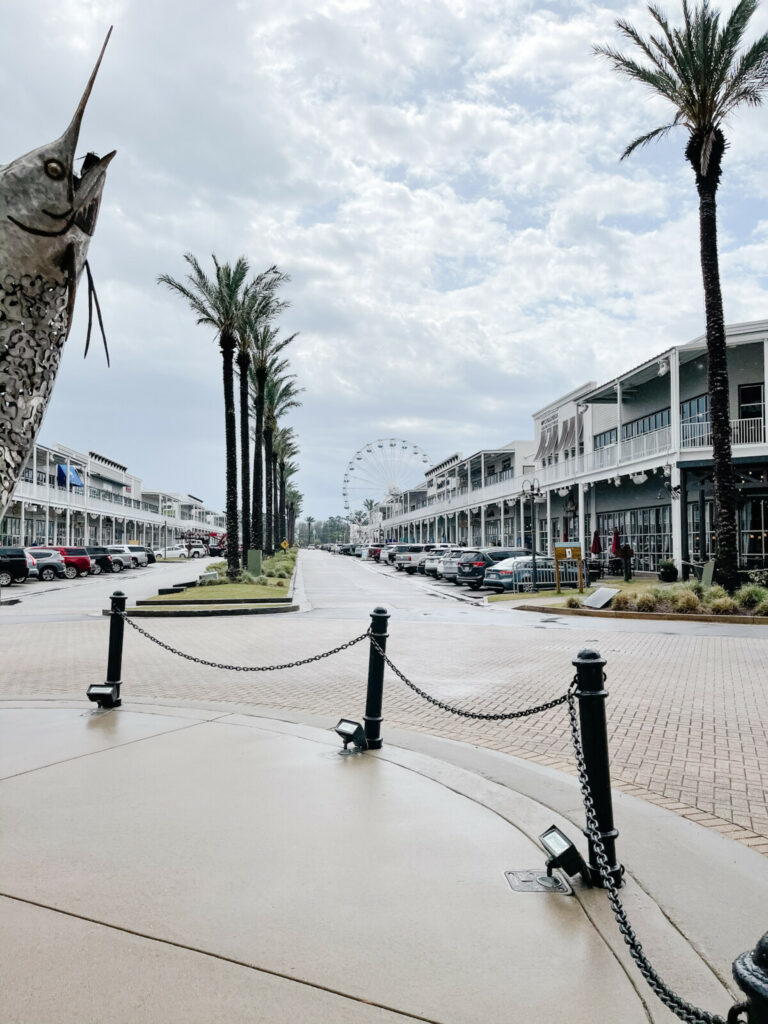 Gulf State Park: This is where the hotel was located. You can ride bikes (for free through the hotel!), or drive your car around. We stopped at the Nature Center and listened to a class about NASA, which was actually really interesting. They offer lots of free educational classes for kids. There is also a restaurant located here, too, called Woodside. We were going to come here one night when there was going to be live music, but it started to rain. They have lots of live music and offer s'mores for the kids to make after dinner!
Chartered Fishing with Gulf Island Charters: Steve found this company online, and it said they catered to small kids and fishing. We had a "private" boat, with Captain Ty and got to ride around the inlet, see dolphins, AND catch fish! The kids ended up catching 15 fish total, so they thought it was the best part of the whole trip!
Family Pictures: I've ALWAYS wanted family pictures taken on the beach, so I figured this was the perfect opportunity to do that. I found a company on Instagram called Shore Shooters. They take the stress off finding an actual photographer in the area. You plug in where you're staying, what dates you'll be there, and then a local photographer reaches out to you to schedule your photo shoot. I'm SO glad we did this. Shore Shooters made the whole process so easy and fun. Our photographer was Alexis, and I highly recommend you ask for her if you want your pictures taken in Gulf Shores, she was great! We had all of our pictures back within 48 hours (oh, and they turned out BEAUTIFULLY!).
Shopping at The Mint Home Decor: We drove by this on our way in to town, and it looked cute. I'm all about home decor stores, and this was definitely a good find!
Where we ate:
The Gulf: one of our favorite places! Although we waited almost TWO HOURS for food, the bar was open the whole time, and it is located directly on the beach, so the kids were able to play in the sand and run around, which made waiting for food not so bad. The Gulf was busy, but so fun!
Foam Coffee: Such a cute find! I love finding local coffee shops when I travel, and this one did not disappoint. In addition to a really good vanilla latte (my fave!), they had great breakfast bites (smaller plates, and my personal favorite was the Peanut Butter Toast with peanut butter, banana, honey and coconut shavings on a piece of bread-so good!). They had several smoothie options, muffins and other goodies. The kids personal favorite part were the swings on the back patio! We came here every day but one day for coffee/food/swings. Highly recommend!
The Southern Grind Coffee House: Another fun find! The coffee was great, and they had a bigger selection for breakfast and lunch. We were able to order our coffee and breakfast, then sit at a table and eat. They also have some home decor, which made it fun while waiting for our food.
Lamberts, Home of the Thrown Rolls: This was recommended by a friend of mine to check out. And yes, they literally THROW rolls at you from across the restaurant! The kids enjoyed this spot.
The Hangout: A very "touristy" spot in Gulf Shores, but SO FUN! This place was huge and I can only imagine how busy it gets during the summer with all the stages for live music and plenty of room for the kids to play. Steve ordered a cheeseburger bigger than his head, and ate it all 🙂
Tacky Jacks: This place was my least favorite. It's a huge restaurant, right on the water (inlet side) and it did have live music which was nice, but the food wasn't very good. It is definitely a "tourist spot" that I had read about on a few blogs. There is duck tape ALL OVER the restaurant with peoples names on it, and of course, we added ours, too.
Florabama: This was our last stop, and so fun! Everyone told me we had to stop here. We ended up eating lunch on the Florabama Yacht Club side (across the street from the original Florabama bar). There was live music, and we ate at a table on the sand on the beach. Boats can pull right up to the restaurant, so the kids enjoyed seeing all the boats. The famous drink served at almost every restaurant is called The Bushwacker. We definitely had our "tourist" stickers on when we asked what it was–and the table next to us laughed because we didn't know what the drink was (apparently it's REALLY popular–now we know!). I didn't get it this time, only because we were getting ready to hop on a long flight home, but next time I'll get it!
A few other restaurants on my list to try, that we didn't get to: LuLu's, GT's on the Water, Fishers and Picnic Beach
Overall, we really had a blast in Gulf Shores. It was so fun to get away and explore a new part of the country we've never been to. Denver doesn't have any direct flights, so it was a full day of travel to get there and get home, so just something to keep in mind. We flew into Pensacola, then drove about an hour west to Gulf Shores. The kids had a blast, the area had lots to do and lots of fun things to explore. We'll definitely be back!
XO,
Lindsay