We are on the "less than 45 day countdown" for the new house. I am SO ready to get my hands on our new home and jump right into projects to start making our house a home.
One feature our kids are excited about in our new home–their own playroom! We plan to have a TV in this room, and it will probably be the main hang out space for our kids. I love that it's tucked away enough upstairs so they can feel like they are doing their own thing, but close enough we can still hear what's going on (you know, #momlife). I picture this room as a space that will grow as our kids do.
The playroom is located at the top of our stairs as soon as you get upstairs. There is a large "cut out" window, so you can see directly into the room. I see this room doubling as a movie room, so we'll have to figure out a way to make the room "dark" when needed for movies.
For now, I see this space as a place for ALL OF THEIR TOYS and a TV room. I'd love to have built-in desks in here for the kids, but for now, it'll probably be a space they can do what they want and play, play, play. Of course, organization will be key.
I'd love to do shiplap on the walls (maybe even paint the shiplap–what!), or some kind of wood detail. Built-in shelves with a library ladder that slides back and forth would be a DREAM! As the kids get older, I'd love to add a "bar" area in this room, for snacks and allll that juice! 🙂 This is going to be a fun space to go wild, and maybe paint the walls something other than white! Maybe.
Inspiration:
Source: Chris Loves Julia 
Source: Serena and Lily 
Source: Linen and Flax
Source: Rafterhouse
Source: KL Interiors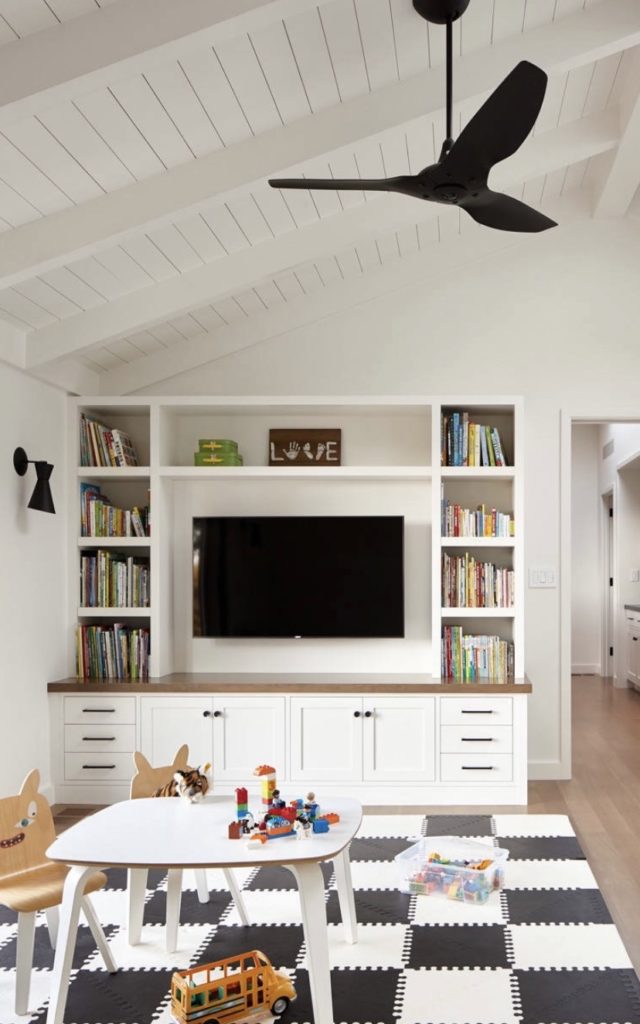 Source: Winter Daisy Kids 
Source: Kerri Rosenthal 
XO,
Lindsay